Hola, Cozumel!
Cruisin' to Paradise!
It's not about the destination, it's about the journey, the experience & who you share it with that can alter your adventure into something special.
Top: Top Shop I Skirt: H&M I Shoes: Jessica Simpson I Cruise: Royal Caribbean
We set sail off of Port Everglades, Fort Lauderdale. Being my first cruise, my eyes had to adjust to how large this ship actually was!
The trip was 4 days which really provided the perfect amount of time to visit all of the wonderful amenities the ship had to offer! (Which was a TON! Wait for it..)
Before the binge eating began, the gym was calling my name. It really was the most breathtaking view! The treadmills overlooked 360 degrees of glass windows, looking right off into the ocean, as far as the eye could see.
Afterwards is when the gorging began. I made sure to maintain an extremely healthy diet beforehand, because I knew there would be an endless amount of chocolate [ dark= my weakness] and other yummies.
The buffet was absolutley insane, offering every type of food ranging from Indian [My other fav.] to American, Italian, Mexican, etc. You would think being on a cruise they would nickle and dime you, but it really was incredible how quality the food was and the fact you could go up unlimited times to get more! Below are 5 desserts, that were demolished.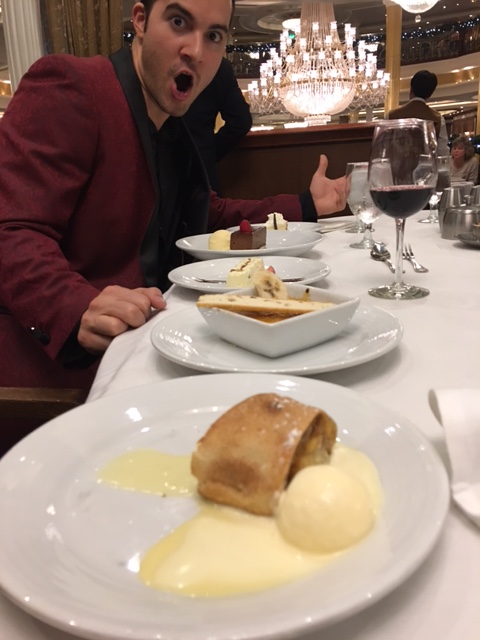 Afterwards, it was time to lather up in SPF, and soak in that Vitamin D while watching an epic belly flop contest and catching up with new friends made on the ship.
Slowly made our way over to the ice skating rink where I demonstrated the swan dive in the most comfy top shop high waisted pants, and a casual chiffon tank.
Saturday morning the ship finally touched down on the beautiful Island of Cozumel, Mexico! Grabbing a scooter from Ernesto's, we headed towards the main downtown plaza to check out the shopping and food. I really fell in love with all of the colorful homes along the way :)
Wearing my favorite off the shoulder ruffle denim dress by Kendal and Kylie , found at Lord and Talor's. and lace up brown booties by Steve Madden.
After touring the downtown area, we took the scooter 60mph down the coast, hitting up all of the beaches, grabbing drinks along the way until we found the perfect snorkeling spot. Not too touristy, but more like a getaway beach with 4 people on it.
While traveling, I carried a perfect sized clutch just big enough for my passport, ID, Credit cards and some cash. Found this gem for $15 at Charming Charlie!
On the way back up the coast, we were getting drenched by rain but were too excited to stop and see "El Cedral" which is a small Mayan ruin! [ I used to want to be an archaeologist growing up, so this was SO cool to me!]
After the Mayan ruins, we passed by a tequila making, hole in the wall place- and ended up receiving a free tour of how tequila is made and of coarse.. how to properly drink it.[Which consists of smelling the drink first several times so you get used to the smell, your body becomes acquainted to it]
After a few tequila shots, naturally there was donkey riding involved...
The Cruise had a formal night, which consisted of this vintage Phillip Lim dress that i picked up at a trunk show, paired with earrings from Charming Charlie and heels from BCBGMaxazria. Spent the rest of the evening eating, and sipping on some wine from the rooftop Jacuzzi watching "Bourne" on the big screen outside.
Not a cloud in the sky.
<3
Thanks for stopping by and sharing my first cruise and out of the country experience with me!
XO
Julie